OrKidstra's Northern Adventure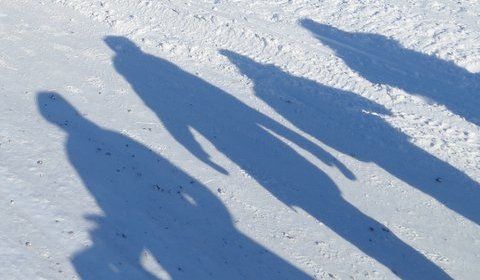 Under the auspices of the YMCA Youth Exchange Program, 15 young members of OrKidstra travelled to Iqaluit from March 11 to 16 for the first part of a musical and cultural exchange with children from the Iqaluit Fiddle Club.
The OrKidstra musicians' days in Iqaluit were filled with a variety of activities inherent to Northern culture: dog-sledding and soccer on sea ice, Inuit games, caribou stew and bannock.  They also enjoyed a talk by Polar Explorer Matty McNair, a visit to the Nunavut Research Institute and a tour of the Legislative Assembly. An important part of the exchange was community service and the OrKidstra kids were "reading buddies" at several Iqaluit schools.
And then there was the musical component: workshops, rehearsals and two concerts with their new friends from the Iqaluit Fiddle Club. The highlight was a joint performance on Friday, March 16 by the two instrumental groups along with a 200-voice massed choir.
Also travelling to Iqaluit with the OrKidstra musicians was Olivia Pelling, an Ottawa-based luthier, who shared her expertise in building and repairing string instruments with others in Iqaluit who have the dexterity and skills to take on luthier work.
Read a more detailed day-by-day account of OrKidstra's exciting trip by our board member, Claire Marshall, who accompanied the children on the trip, along with teachers Grace Bruno and Margaret Tobolowska.